Mods vs. Rockers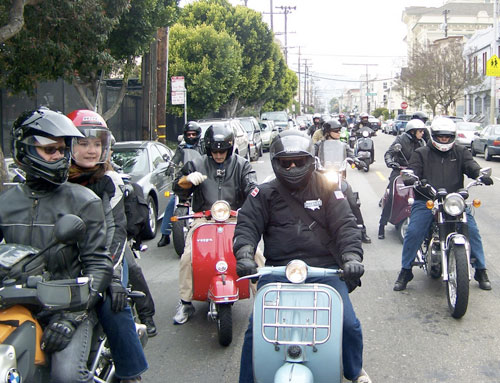 Well, the ride went just about perfectly. Over 80 motorcycles and 60 scooters went on the ride this year, and it was an absolute blast.
We took off from the SFMC and headed over to the Thirsty Bear. Nobody was lost, and everyone was perfectly safe. Then, from what I understand, some folks went on another ride. I hear they headed up toward Union Square, battling the Saturday shopping traffic. It sounds like the group got a bit split up, but regrouped just before they went into the Stockton Tunnel. It sounds like the timing was perfect this year, with motorcycles entering the tunnel from the south just as scooters were entering from the north. From what I hear, folks blasted through Chinatown, into North Beach, and up to Coit Tower. Word is, there were some surprised tourists, a Muni bus, and some tricky traffic. But I also heard everyone made it through smoothly.
After that, it sounds like riders blasted down by Marina Green and up to Baker Beach, attracting attention the whole way down. From what I hear, everyone had a great time, laughing and talking at the beach. Someone told me the riders then rode through Sea Cliff, lowering property values with noise and smoke. A blast by the Legion of Honor was reported, before everyone supposedly continued along past Ocean Beach and through Golden Gate Park, pausing only to give lessons on avoiding hazards to a student driver.
The way I understand it, the group was bold enough to blast right down Haight Street, teaching those hippies a thing or two about smoking in public. According to reports, they rode on through the Castro, displaying a bold command of the ins and outs of turning left and right of way.
Meanwhile, there was a great party going on at the clubhouse. Stephan provided a great lunch, and everyone had a blast, laughing and singing just a little too loud.
Many thanks to everyone who made the event come together as well as it did. Special thanks to our friends at the SSSC for throwing this party with us again this year.
More photos available on the SFMC website.