Hey Dey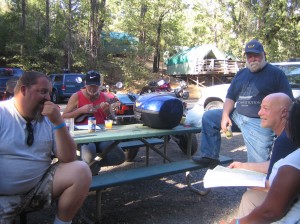 Since we didn't all ride out together, everyone who attended will have something to add to the story.
I left San Francisco at 7:30 on Saturday morning and met Brian for breakfast in Tracy. After we ate, Brian continued east, while I gassed up and took my time. Traffic wasn't bad, and the temperature was pleasantly cool. I happened to catch up with John, Cary, James, Cheryl in Oakdale, and we rode together into the fun part of 120, up Old Priest Grade and pausing in Groveland for lunch. I beat it out of there before them, and arrived at San Jose Family Camp around 12:15.
Turns out I missed sign in, but made my way to my tent to unpack and get comfortable. I had a tent to myself, with Brian and Bob on one side, and Chuck and Tegan on the other.
Once we had the bar set up, we took a shot at the bike games. Slalom, slow race, and a couple of passenger games were played. Let me tell you, John Sweeney is deadly with a pinecone.
Afterward, a few of us headed to the nearby swimming hole. It is a beautiful spot where the adventurous can leap off of rocks into the water, and the rest of us can have a nice cool swim.
Dried off and back at camp, we ate dinner and gathered our team for the dress contest. Competition was stiff. We duked it out against Capitol City and the Christian Motorcycle Association, and won in team, passenger, and rider categories.
After the contest, we represented on the dance floor late into the night.
Early the next morning, I packed my gear and headed for home. I put my head down and blasted west. Just before I left, folks were gathering for the dual sport ride. Hopefully, someone can fill in that part of the weekend.