2011 Sawmill Enduro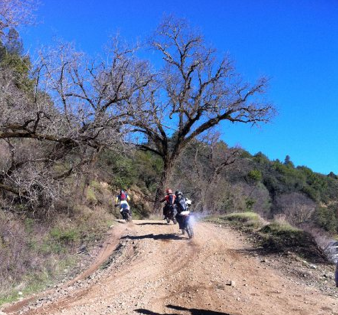 Member Mike Ofeish sends us this ride report: Sunday April 2nd, 2011 was the Sawmill Enduro. Hosted by the North Bay M.C.. Phil Bowman, Mike Ofiesh, and David Peckham were greeted with a cool, clear morning and sunny skies. Rain, the week prior, filled the rivers and kept the dust to a minimum. A few days before, nearby, Benmore Creek was over 6 feet deep and not able to be crossed. The water level was dropping about two feet per day.
Most people would agree the Sawmill is the most challenging enduro in the series. It is located in the South Cow Mountain riding area. This is just fifteen minutes from Lakeport or Clear Lake. If you think North Cow Mountain is hard riding, the south area is a death march. One trail is loose, bowling ball boulders for several miles up a winding hill. Another is a narrow single track through brush so thick branches grab your chin bar on your helmet and pull your neck off. There is a trail with trees so close together your handlebars don't fit and between the trees are slippery tree roots or rocks to catch your rear tire and pull you into the fires of Hell. It goes on for miles like this one after another. Then there is Benmore Creek which is so swift and so deep you can't believe your bike is still running. After crossing it you go up steep and narrow switch backs with bumpy step like rocks. Then there is one rutted hill after another.
I never fell so many times in my life. You would have thought I was drunk. I fell about thirty times. I was so exhausted from picking my bike up I would just fall off my bike over the hillside or in the brush landing upside down and on my back. I would just collapse. I had a rough day. I honestly don't know how I completed the course. Had I just ran a smoothe pace and not had to pick my bike up so much would have made things so much easier. I rode sloppy and wasted energy. My head was definately not on right that day.
Phil started on minute 55. I saw him messing with his brake. At mile 73 we had a gas stop and he was there. We got him some gas and he looked all happy and cheerful and said."hey Mikey. let's finish this together" Phil's encouragement was a gift. We ripped. He was riding his new KTM 300 XC-W military issue secret weapon. He had brake problems and his front wheel was sticking. He still finished and rode like a true champion and world class rally star. Phil and I rode the remaining 11.4 miles together. He made it look easy. The course took us in and out of this deep river about 15 times. then down a narrow, rocky, tree rooted creek bed. Every turn had you looking across the river for the next arrow card. Where is it? where is the wet trail across the rocks? There it is! and a steep up hill out of each creek crossing. One after another for miles! Over and over again. Then through a narrow, densely wooded and dark tree section. Where is the finish line? Maybe there is no finish line. Maybe it just goes on.............There it is! Finally!
David Peckham, the man! the myth! When asked by Dirt Bike magazine in 2010, February, issue 23,What do you do to train for the enduros replied, "I ride a bicycle with some old dudes in the neighborhood." In Austria Dave is know as "der Kleidenstadt" and feared by even the trees. He actually drinks coolant to lower his diastolic ATL and thereby making subzero temperatures seem warm. Dave's ability to read trails for several hundred yards ahead give him light speed. Carrying grace and momentum under severe conditions allows him to be a threat to the competition. They say if Dave rode on the trails alone. you would never see a tire track. He is so smoothe and quiet, Yet he stalks you and hunts you down until he comes upon you and goes through you. You break into a drenching sweat when as he dives into the next turn. You feel violated, like a virgin, touched for the very first time. You feel your existence has expired. He makes your soul his bitch. Dave finished 10th in his class. He was always on time. He never fell. He was presented with an etched pint glass and a certificate (suitable for framing) of Coolness. And a pin for his lapel. We love you Dave. You are our big toe. You are number 1!