3 Zero Cafe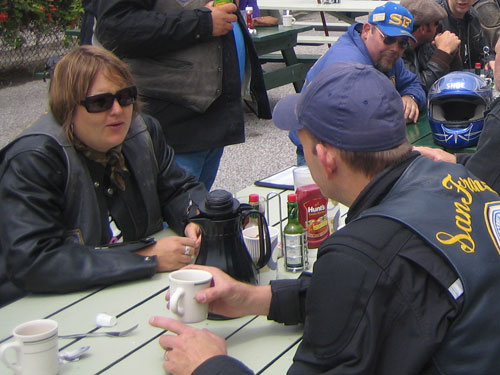 We got a little bit of a late start today, 18 bikes leaving the clubhouse at 10:30. Somehow, I wound up on Mike O's Triumph Scrambler, a gorgeous machine with a great exhaust note. It was like nothing I've ever ridden. The posture was a strange combination of a duel sport bike and a standard. I felt a bit out of sorts, and let the fast guys run away from me. It gave me a chance to enjoy the scenery a bit more than usual. With all the events in the city today, we skipped the pretty route out of town and just headed straight for 280. As promised, Tunitas Creek Road was great, rampaging bicyclists aside. Lobitos Creek was a nice split as well. As we got close to the coast, the weather cooled off a bit, landing right in the motorcycle weather sweet spot. I kept an eye peeled for the Roosevelt Blvd turn, but somehow we missed it, and rode straight to the cafe instead.
Lunch was great. They pulled some tables together and seated our big group right away with little or no warning. It gave us a great view as a couple planes came in to refuel. After lunch, folks headed back north to the city.
Visit the SFMC website for more pictures.